Description
the SOLAR PLEX chakra
The Manipura collection enhances the energy of the solar plexus chakra. A chakra with the ability to vitalize our sympathetic nervous system, thus helping to improve our metabolism and balancing our emotions. Energy capable of boosting our will, personal power, authority, dominant desire, and encouraging self-control.
Each of the bags in this collection activates the energy of transformation towards feeling higher self-esteem, determination, and freedom to choose and direct your own life. This collection will boost your power to show the world what you have inside from the place of love and acceptance.
Slow fashion is to produce high-quality products. Untitled Barcelona and its philosophy: sustainability, ethics, originality, traditional values, local production, and preservation of the ecosystem.
Handcrafted jewelry

chakra healing
Untitled Barcelona is a wellbeing enterprise using fashion accessories to empower the light of women, adopting the chakra concept of inspiration as a starting point, grounding them with accessories wearable to all.
Untitled Barcelona specializes in high-quality fabrics. All designs are made entirely by hand to produce high-quality products at a fair cost. We have an emotional connection with every product created.
Untitled Barcelona artistic chakra necklaces are an excellent way for anyone to carry positive healing energy and to enhance your well-being. All pieces are handmade, with beautiful knitted details and the fascinating cosmos of natural stones.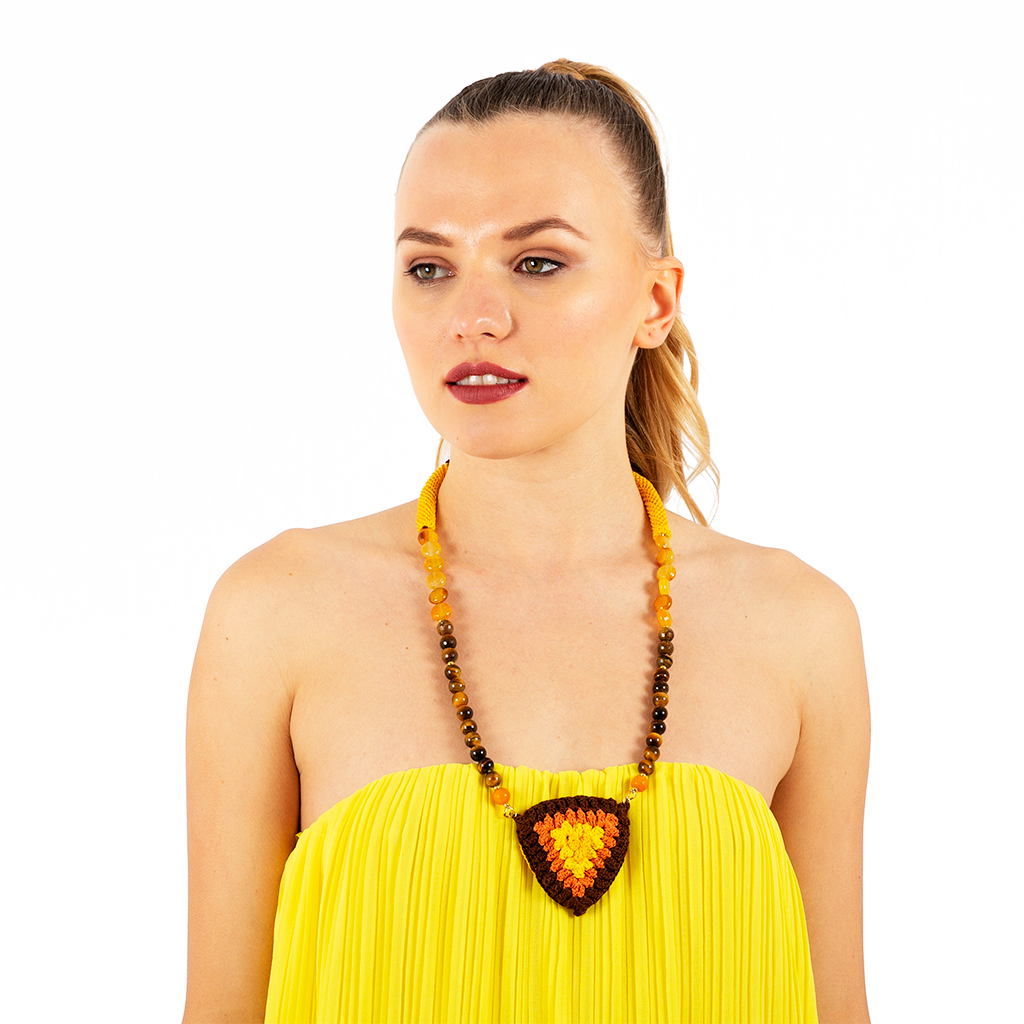 A spiritual artist behind each work
Author: Cindy Muñoz & Gisselle Morales
"MANIPURA" – Jewelry collection. Our radiant jewelry collection unites two worlds; All necklaces are carefully handcrafted, with the touch of Cindy's knitted details and blending the fascinating cosmos of healing stones designed and selected by Gisselle. We are using the vivid chakra yellow, spreading the energy of growth. This collection radiates our strength in life. Found in the sacred agate and the magical tiger's eye that helps release fear and anxiety.
"I am at peace with myself."
We don't need labels, we are unique
Handcrafted bags with original chakra healing art