Description
the throat chakra
The Vishuddha collection enhances the energy of the throat chakra. It helps balance our thyroid gland for metabolism, physical and mental development. This chakra provides space, expressive self, communication, and singing. We can indeed find our inner truth and live our truth in daily life.
Each of the bags in this collection boosts your divine will through sound, made up of words or tones. Rise in the form of the harmony between your humanity and divinity and flow powerfully into the world to create your destiny your authentic resonance, as a stream of sound, is expressed as "I am the only truth."
Slow fashion is to produce high-quality products. Untitled Barcelona and its philosophy: sustainability, ethics, originality, traditional values, local production, and preservation of the ecosystem.
Handcrafted bags

chakra healing
Untitled Barcelona is a wellbeing enterprise using fashion accessories to empower the light of women, adopting the chakra concept of inspiration as a starting point, grounding them with accessories wearable to all.
Untitled Barcelona specializes in high-quality fabrics. All designs are made entirely by hand to produce high-quality products at a fair cost. We have an emotional connection with every product created.
Vegetable-tanned

EU Leather
Untitled Barcelona specializes in eco-friendly leathers with vegetable-tanned inside the European laws. We love to share our vision with respect for the people and our environment.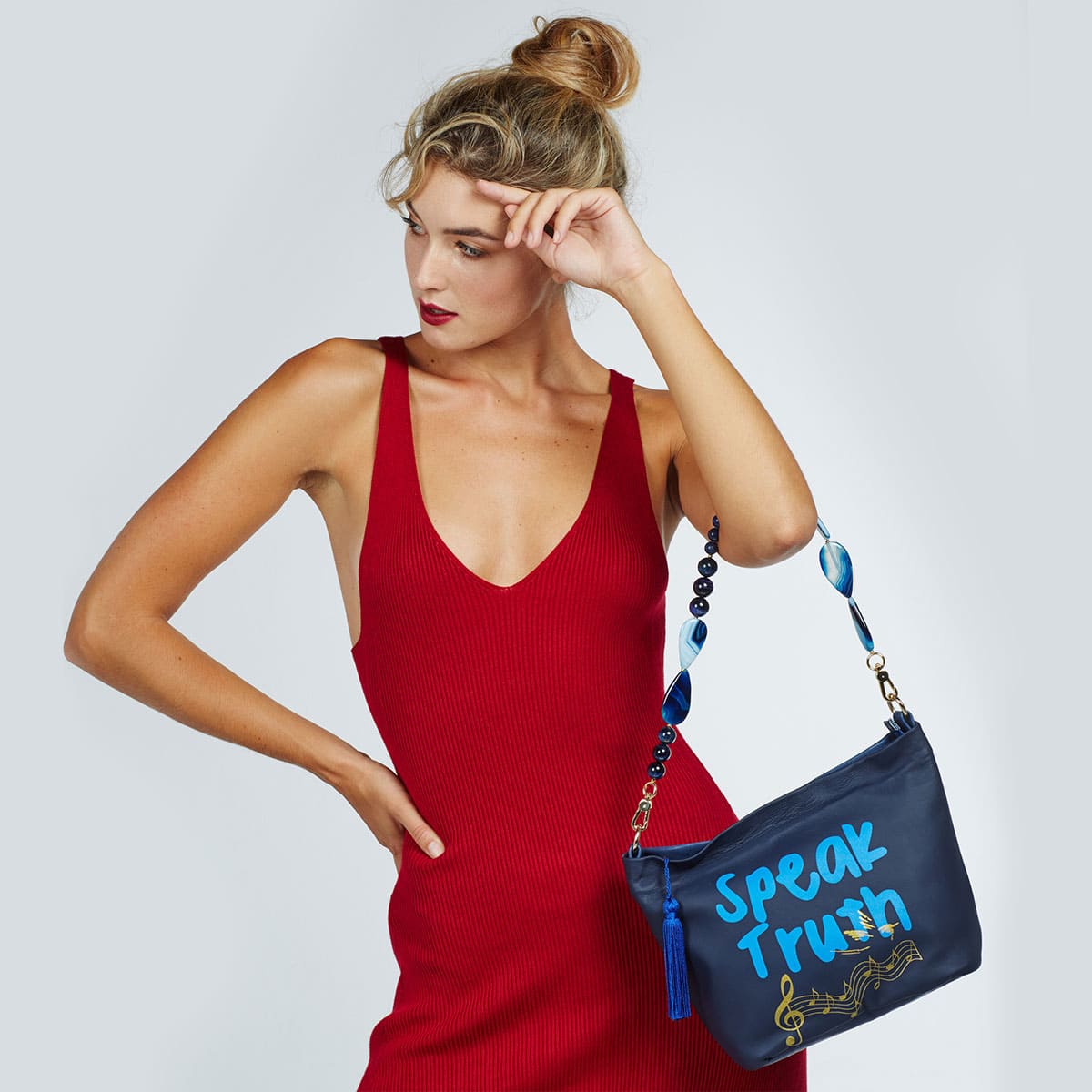 A spiritual artist behind each work
"SPEAK TRUTH" – Hand screen-printed collection. I wanted to create a message all about Speaking Your Inner Truth. This collection's powerful message reflects the throat chakra's qualities, communication, Truth, and self-expression. The real potential and power of words can be used to heal and to harm. The use of language is a gift. We are blessed to be able to communicate through the beautiful use of words. Speak Truth teaches us to use the power of words, speak with compassion, and speak up for our Truth.
"I speak my truth."
We don't need labels, we are unique
Handcrafted bags with original chakra healing art